The complaint has been that Pete Carroll (of whom I am no fan) blew the Super Bowl by not handing off to Marshawn Lynch on the fateful 2nd down play that ended up being intercepted.
First, it wasn't Carroll's call. It was Offensive Coordinator Darrell Bevel's.
Second, there are probabilities at play.  Some people are (to paraphrase Cousin Sal) X's and O's, and some are "all about the Jim's and Joe's".
Here's the problem with running on 2nd down:
If you run Lynch on 2nd and he's stuffed, you have to burn your last Time Out. That effectively takes the run off the table for 3rd and (if there's time) 4th down. It cuts your options, and the NE defense would know this.
By saving the TO, it keeps the whole playbook open longer.
Example:
There were 26 seconds left when the ball was snapped on 2nd down. If you run Lynch and he's stuffed (and he was 1/5 on 1yd goal line runs this season – he's a Beast, but goal line running is different), you have to call time out to stop the clock.
You then have between 18 and 20 seconds left, but no timeouts on 3rd down; one more run that's stuffed could end the game. A QB bootleg that doesn't get in likely ends the game because it eats too much time to line back up
By passing on 2nd, of the 3 possible outcomes, 2 are good: a likely game-winning TD, an incomplete pass (stopping the clock and preserving the TO) or INT. And an incomplete sets up a 3rd down with the entire playbook still an option. You run Lynch on THIRD, and even if he's stuffed, you STILL have a wide-open playbook on a 4th and goal for the ages.
As the game ended, my issue wasn't the pass call, but rather the pass call into traffic. I couldn't believe they didn't try a fade into the corner for Matthews or Willson across the back at the endline.
As a PS, look at what Russell Wilson saw on that play, via tweet from Rob Guerrera, NBC Sports stats guy – "This is what Wilson saw on the big INT. I would have thrown that, too.".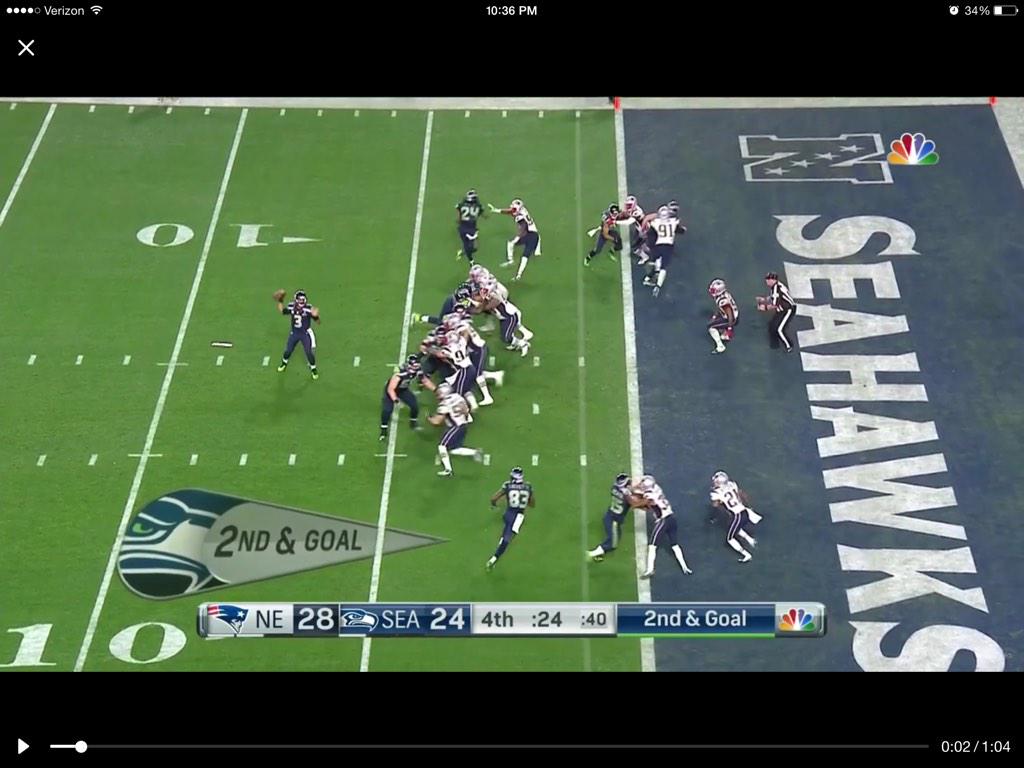 Pro Football Outsiders Aaron Schatz's conclusion is that Seahawks WR Lockette (#83 above) blew it by not making a more aggressive play on the ball. That play looks like a sure-fire TD.  "I think Lockette blew it. He didn't get to the spot. And Christopher Price told me after the game, he talked to (Patriots backup QB) Jimmy Garappolo in the locker room and Garappolo told him that the scout team beat Butler with that exact play in practice. So he knew how to read it and he knew what to do. And unlike in practice he did it. "
If Kearse gets a better jam off the line, he takes out Butler. But he didn't.  There are lots of "buts" here, but the point is that Wilson got a good look at what he wanted (but he threw it to the outside shoulder, not the inside, where Butler couldn't have picked it).
You can disagree on the call, but it wasn't a "bad" call by Darrell Bevel.